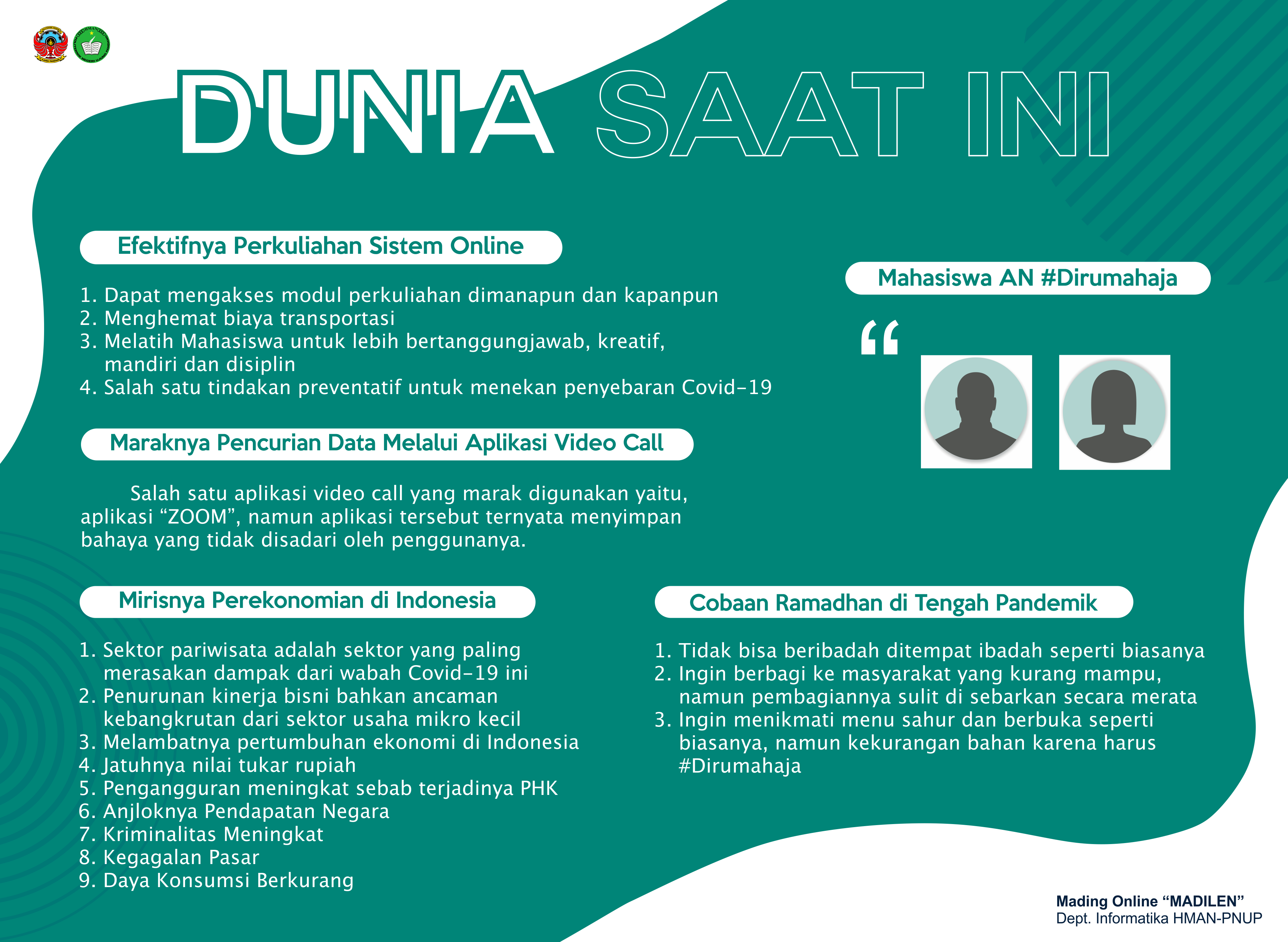 DUNIA SAAT INI
Efektifnya perkuliahan sistem online
Dapat mengakses modul perkuliahan dimanapun dan kapanpun
Menghemat biaya transportasi
Melatih mahasiswa untuk lebih bertanggung jawab, kreatif, mandiri, dan disiplin
Salah satu tindakan preventif untuk menekan penyebaran covid-19
Sebenarnya metode yang paling efektif tetaplah perkuliahan face to face secara langsung, akan tetapi jika wabah sudah memasuki stage pandemic maka jenis keefektifan metode perkuliahan sudah bukan lagi menjadi suatu masalah utama, yang terpenting adalah keselamatan orang banyak dan bentuk pertanggung jawaban dari pihak akademika terhadap berjalannya proses perkuliahan.
Sistem kuliah ini hanya menjadi alternative bukan cara regular dan perlu dievaluasi keberlanjutannya. Disisi lain memang ada kelebihannya dan itu yang harus diadopsi.
Maraknya pencurian data melalui aplikasi video call
Salah satu aplikasi video call yang marak digunakan yaitu aplikasi zoom, namun zoom ternyata menyimpan bahaya yang tidak disadari oleh penggunanya. Meski pihak zoom menjanjikan keamanan sistem dan privasi pengguna, nyatanya hal tersebut tidak sepenuhnya benar.
Media ternama, The Intercept, melaporkan bahwa aplikasi ini ternyata tidak melakukan enkripsi untuk panggilan video yang dilakukan pengguna. Masalah keamanan Zoom tak berhenti sampai di situ. Media teknologi Motherboard menemukan bahwa Zoom membocorkan alamat email dan foto milik pengguna kepada orang asing.
Jadi mulai sekarang kita harus lebih teliti dan hati-hati lagi dalam memilih aplikasi yang mengharuskan untuk mengisi daftar diri.
Menanyakan ke mahasiswa AN tentang kegiatan produktif selama #dirumahaja
Putri Alifia (Angkatan 18)
Semenjak diberlakukannya physical distancing, untk mencegah penyebaran virus covid19 kegiatan yang dilakukan diluar terpaksa harus dilakukan dirumah termasuk perkuliahan.. sdh hmpir sebulan lebih sya menjalani kegiatan perkuliahan dirumh.. mskipun terasa bosan namun bnyk hal produktif yg bisa sya lakukan untuk mnghilngkan rasa bosan trsebut slh stunya yaitu membersihkan rumah, merawat tanaman, mengaji, belajar memasak. Melakukan hal" yg sya sukai seperti bernyanyi, berolahraga, menggambar, dan membaca webtoon. Selain itu, mencoba hal-hal bru yg jarang sya lakukan seblumnya.
Ahmad (Angkatan 19)
Sebuah pemakluman yang terjadi karna adanya wabah yang membuat saya stay at home. Ada beberapa pelajaran menarik yang dapat saya petik selama stay at home. Stay at home dapat membuat saya kumpul bareng keluarga lebih awal dan bercerita banyak dengan keluarga, membantu keluarga, sampai dengan makan bareng lagi dengan keluarga dari sekian lama tidak bersama. Dari stay at home ini saya juga membuat inovasi terbaru berupa bakti sosial yakni melayani suatu wadah bimbingan kip kuliah skala nasional. Memeng dalam ini kelihatan sepeleh tapi kita harus memandang disisi lain bahwa orang lain mungkin memandang itu sangat besar dalam pertolongan kali ini. Selain kedua hal tadi saya juga taklupa untuk mengikuti pembelajaran daring atau kuliah online. Keseruan di stay at home ini juga takluput dari kecemasan mendalam karna wabah ini. Hal ini juga membuat saya tidak bisa berjumpa atau bercengkrama dengan lingkungan sekitar. Saya harap wabah ini cepat berlalu, agar kita saling bercengrama kembali seperti hari hari biasanya, bersama dia, mereka, dan kamu. Salam
Mirisnya perekonomian di Indonesia
Sektor pariwisata adalah sektor pertama yang paling terdampak dalam situasi wabah covid 19 contohnya seperti hotel, restoran, event organizer, travel, dan lain-lainnya
Sektor usaha mikro kecil (UMKM) dengan adanya gangguan aktivitas sektor koperasi yang disebabkan wabah virus corona akan mengalami penurunan kinerja bisnis dan ancaman kebangkrutan
Lambatnya pertumbuhan ekonomi Indonesia
Jatuhnya nilai tukar rupiah
Banyaknya karyawan yang terkena PHK, itu berarti pengangguran meningat
Anjloknya pendapatan negara
Kriminalitas meingkat
Kegagalan pasar
Daya konsumsi berkurang
Cobaan beribadah di bulan Ramadhan di tengah-tengah pandemic
Tidak bisa beribadah di tempat ibadah seperti biasanya.
Ingin berbagi ke masyarakat kurang mampu tapi pembagiannya sulit di sebarkan secara merata.
Ingin menikmati menu sahur dan buka puasa seperti biasanya tapi kekurangan bahan karna harus #dirumahaja dan diluarpun banyak toko yang tutup.