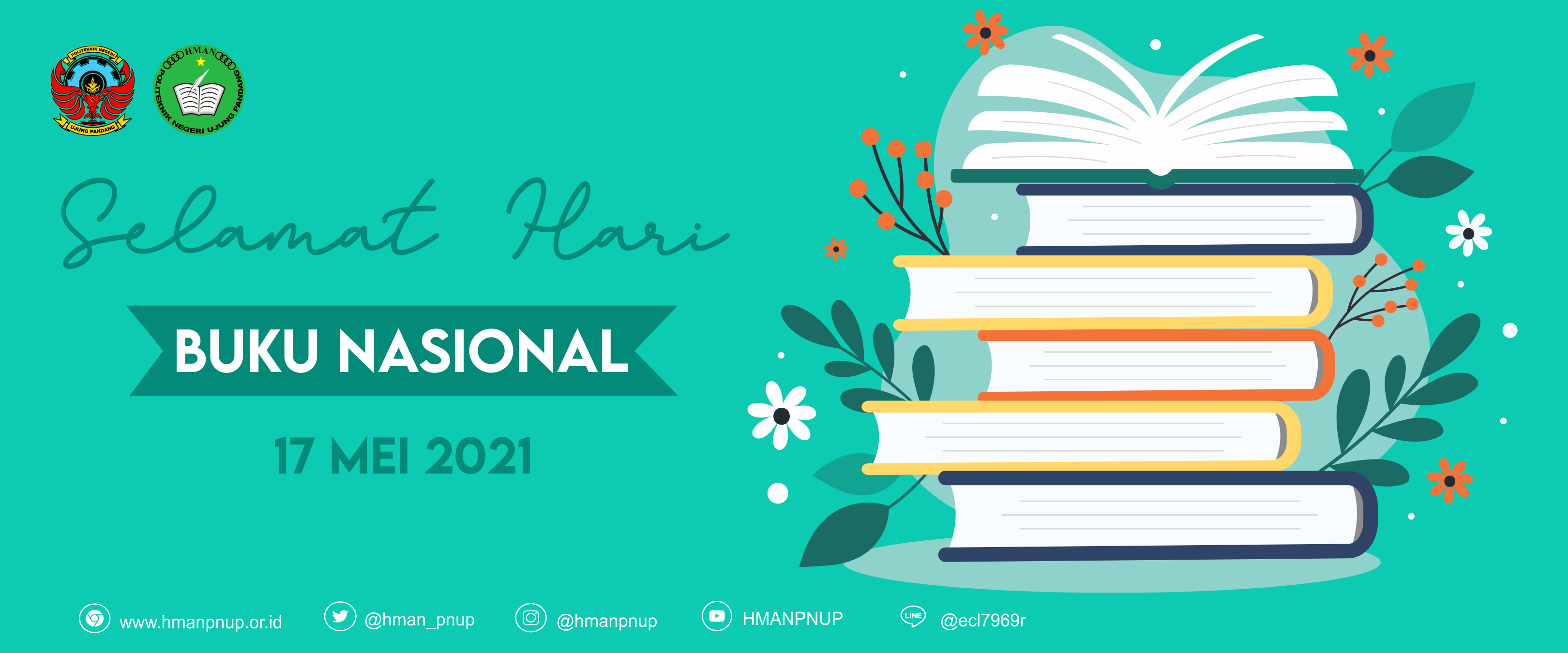 Hari Buku Nasional diperingati tanggal 17 Mei setiap tahunnya. Hari tersebut bertujuan untuk terus membudayakan gemar membaca buku di kalangan masyarakat terutama generasi muda.  Buku sekarang ini bukan hanya dalam bentuk kertas berlembar-lembar yang disatukan menjadi buku, kini buku di-update dalam bentuk elektronik bernama e-book (electronic book). Dalam buku elektronik ini, masyarakat luas tidak memiliki hambatan lagi untuk meningkatkan minat membacanya didukung pula jaringan internet yang terus berkembang sehingga memungkinkan memperoleh informasi dari mana saja tanpa terkendala oleh jarak dan waktu. Pada ebook ini merupakan jenis buku elektronik yang memudahkan akses para pembaca bisa berupa bentuk softcopy yang dapat dibaca melalui perangkat eletronik seperti komputer, smartphone dan handphone.
Sebelum mengenal lebih lanjut ebook dan buku menarik yang dapat meningkat minat pembaca, sebaiknya kita perlu mengetahui sejarah singkat hari buku di Indonesia. Berikut pembahasaan lebih lanjut :
Sejarah Singkat Hari Buku Nasional
Peringatan Hari Buku Nasional , disingkat saja Harbuknas, telah dimulai sejak tahun 2002. Menteri Pendidikan pada saat itu, Abdul Malik Fadjar, adalah orang yang pertama kali mencetuskan hari peringatan tersebut. Tanggal 17 Mei dipilih dengan dasar yang jelas. Penetapan Harbuknas kala itu didasarkan dengan momentum hari berdirinya Perpustakaan Nasional Republik Indonesia pada 17 Mei 1980.
Dalam pengesahan Hari Buku Nasional itu banyak dari elemen masyarakat, khususnya kelompok pecinta buku yang mendorong terbentuknya hari peringatan tersebut. Bukan tanpa alasan, penetapan itu memiliki tujuan utama yakni diharapkan dapat menumbuhkan budaya atau meningkatkan minat membaca dan menulis sebagai bagian dari budaya literasi dikalangan masyarakat. Hal ini antara lain dikarenakan minat baca masyarakat Indonesia masih tergolong rendah.
Oleh karena itu, untuk memperingati Hari Buku Nasional mari kita tingkat minat membaca agar dapat menambah wawasan kita terhadap ilmu pengetahuan. Berikut 23 Buku Best Seller di Indonesia yang termuat dalam Laman Situs ProducNation.
Sebuah Seni Untuk Bersikap Bodo Amat by Mark Manson
#88LOVELIFE by Diana Rikasari
Rich Dad Poor Dad by Robert T. Kiyosaki
Mantappu Jiwa Buku Latihan Soal by Jerome Polin Sijabat
The 5 Level of Leadership by John C. Maxwell
Crushing It!: How Great Entrepreneurs Build Their Business and Influence-and How You Can, Too by Gary Vaynerchuk
Komet Minor by Tere Liye
Murder on the Orient Express by Agatha Christie
The Naked Traveler 8 – Trinity
Bung Karno: Penyambung Lidah Rakyat Indonesia by Cindy Adams
Dear Tomorrow oleh Maudy Ayunda
A Wrinkle in Time by Madeleine L'Engle
Nanti Kita Bercerita Tentang Hari Ini (NKCTHI) by Marchella FP
Home Cooking ala Xander's Kitchen by Junita
Merdeka Sejak Hati by A Fuadi
Luka Kata by Canda Malik (Gus Candra)
Fire and Fury: Inside the Trump White House by Michael Wolff
Si Juki Seri Jalan Jalan Nusantara Petualangan di Belitung
Norwegian Wood by Haruki Murakami
Hai, Miiko 31- Edisi Khusus
Orang-orang Biasa oleh Andrea Hirata
Buya Hamka Berbicara Tentang Perempuan productnation oleh Prof. Dr. Hamka
Becoming by Michelle Obama.
Untuk ulasan lebih lanjut terkait buku – buku yang menarik para pembaca di atas, bisa mengklik link berikut ini : https://productnation.co/id/5509/buku-best-seller-indonesia-internasional-book-fair/
Demikian informasi yang kami berikan mengenai pembahasan Hari Buku Nasional 2021. Selamat Hari Buku Nasional, Kami berharap dapat membangkitkan semangat literasi seluruh warga Indonesia terutama generasi muda.
#selamatharibukunasional
#HMANPNUP
#HMAN
#PNUP
#Familyforever
Editor: Andi Risda Oktaviani Basri
Desainer: Andi Nur Inayatul Zahra